Keep Your Outdoor Spaces Safe & Clean With Pool Deck Cleaning In Mt. Pleasant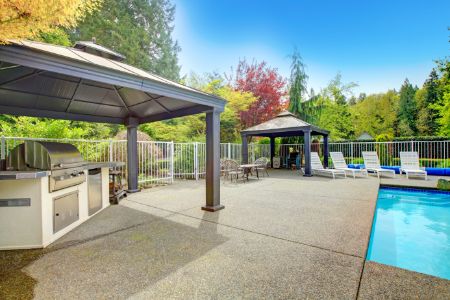 For years, Lowcountry Soft Wash has been the preferred choice for homeowners in Mt. Pleasant seeking top-tier pressure washing services, including pool deck cleaning. As the pool season approaches, ensuring that your pool area is clean and safe becomes a top priority. While you may diligently maintain your pool deck, it's equally important to care for the pool deck and the surrounding area. Neglecting this aspect can lead to potential issues, including the growth of unsightly and slippery algae. This is why pool deck cleaning is crucial.
Pool Surround Washing For Fresh Pool Areas
At Lowcountry Soft Wash, we offer specialized pool deck cleaning and pressure washing services that are designed to address these concerns effectively. Our pool deck cleaning package goes beyond surface-level cleaning. We delve deep into the surfaces, eradicating stubborn grime and stains while eliminating the bacteria responsible for unsightly growth around your pool.
Our thorough pool deck cleaning leaves your pool area spotless and safe for you and your family to enjoy during the upcoming summer season. Don't compromise on safety and aesthetics; trust Lowcountry Soft Wash to get your pool area in pristine condition.
Explore Our Range Of Pressure Washing Services In Mt. Pleasant
While pool deck cleaning is just one of our specialties, Lowcountry Soft Wash offers a comprehensive range of services when it comes to pressure washing in Mt. Pleasant. Whether you need roof, siding, fencing, or even patio cleaning, we have the expertise and equipment to make any part of your property look amazing.
---
Frequently Asked Pool Deck Cleaning Questions
While it's possible to rent or own a pressure washer for DIY cleaning, pool deck cleaning involves more than just high-pressure water. The expertise and experience of a professional team like Lowcountry Soft Wash are essential for ensuring thorough and safe cleaning. We understand the nuances of different pool deck materials and know the right pressure levels to use to avoid damage. Our eco-friendly cleaning agents also help eliminate stubborn stains and bacteria effectively. Hiring professionals ensures that your pool deck receives the care and attention it deserves without the risk of potential damage.
The frequency of pool deck cleaning depends on several factors, including the climate, usage, and surrounding vegetation. In the humid subtropical climate of Mt. Pleasant, pool decks can accumulate dirt, algae, and mold relatively quickly. We recommend having your pool deck professionally cleaned at least once a year to maintain its appearance, safety, and longevity. However, if you notice excessive staining, slippery areas, or visible growth, it's advisable to schedule a cleaning sooner to prevent potential safety hazards.
TIME TO WASH YOUR PROPERTY!
CONTACT OUR MT. PLEASANT PRESSURE WASHING EXPERTS TODAY FOR A FREE ESTIMATE!